From Mac to Windows: working with WSL2
So I decided to completely reinstall my old Surface Pro 4 and thought to myself: why not give WSL2 - short for Windows Subsystem for Linux - a try and see how good this runs.
To quote the Microsoft WSL page:
The Windows Subsystem for Linux lets developers run a GNU/Linux environment -- including most command-line tools, utilities, and applications -- directly on Windows, unmodified, without the overhead of a traditional virtual machine or dual-boot setup.
Use case
I've heard about WSL in the past, but never really payed much attention to it since I was always working on a MacBook, which is Unix based.
But since I made to switch to working on a Windows machine I have experienced some minor disadvantages that didn't come with my MacBook.
Some NPM packages don't play well on Windows
Certain tooling needs patching to make it work on Windows
Performance is slower: live reloading, build times, ...
My use case was fairly simple: get Node.js and thus npm installed, clone something using GitHub, open it in VSCode and run it.
The reason I went for WSL2 is because I can have all the benefits from a managed VM and full Linux kernel and I don't need access to the shared file system.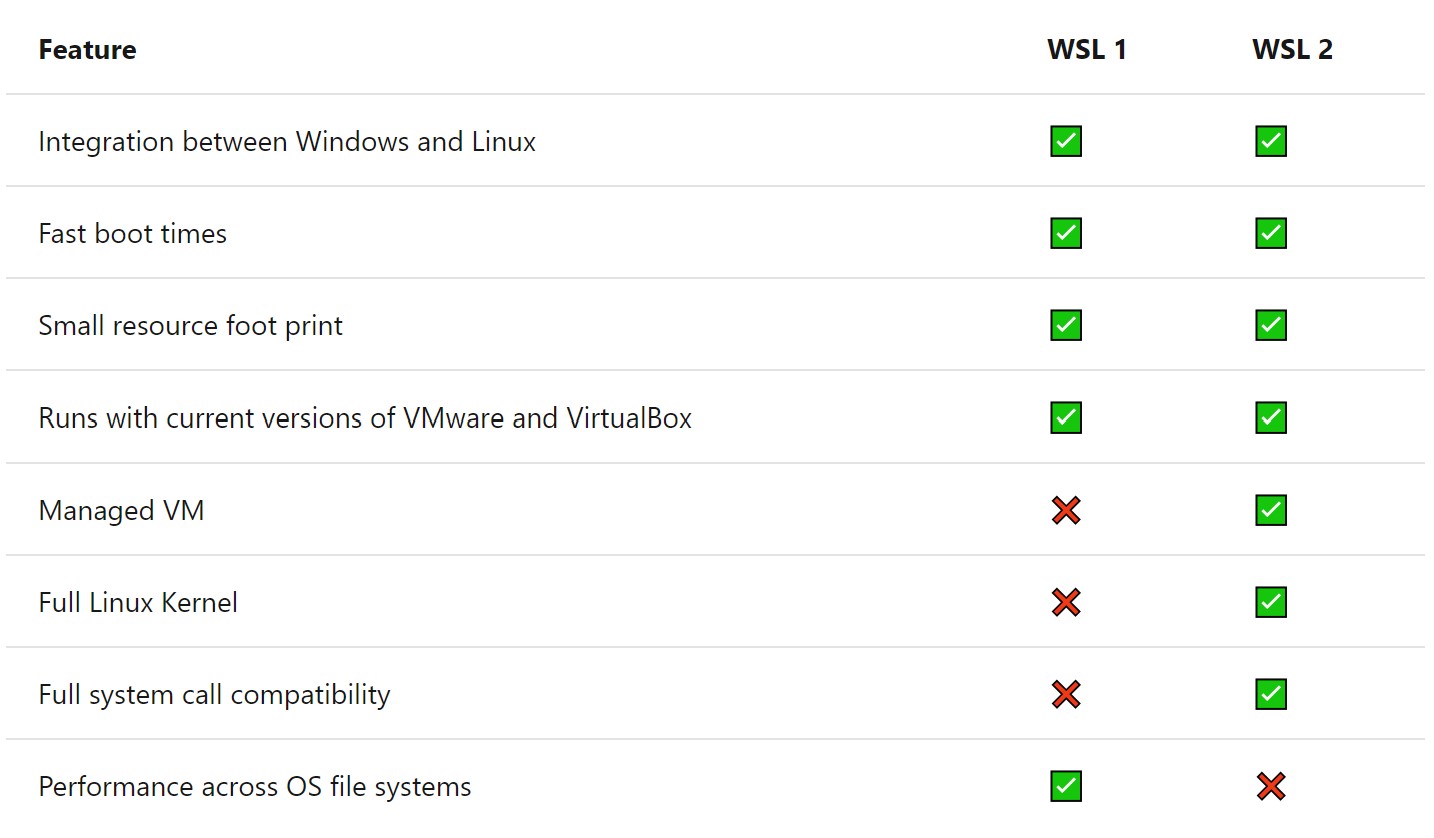 Installing WSL2
I simply followed the quickstart guide on the Microsoft website and performed the following manual installation steps.
Step 1 - Enable the Windows Subsystem for Linux: run this command as admin in Powershell.
dism

.

exe 

/

online 

/

enable-feature

 

/

featurename:Microsoft

-

Windows

-

Subsystem

-

Linux 

/

all 

/

norestart
Step 2 - Check requirements for running WSL 2: since I'm on a x64 system my OS Version needs to be 1903 or higher, with Build 18362 or higher. This one checked out and I performed a system update before moving to Step 3.
Step 3 - Enable Virtual Machine feature: enable the Virtual Machine Platform feature as admin in Powershell and restart your system.
dism

.

exe 

/

online 

/

enable-feature

 

/

featurename:VirtualMachinePlatform 

/

all 

/

norestart
Step 4 - Download the Linux kernel update package: install and allow settings.
Step 5 - Set WSL 2 as your default version: another admin Powershell script to run.
wsl 

--

set-default

-

version 2
Step 6 - Install your Linux distribution of choice
I went with Ubuntu and specifically 20.04 LTS. Why Ubuntu you might think? I have been close friends with Ubuntu in a previous life.
Searched for Ubuntu in the Microsoft Store, pressed the download button and eagerly waited.
After installing the Linux distro will ask for a username and password and after that you're ready to go.
One nifty thing I found out is that opening a folder from WSL is done with explorer.exe <path-to-folder-or-file> instead of doing open <path-to-folder-or-file> as I was used to on Mac.
Installing Git on the VM
I followed the steps provided in the WSL Git tutorial, but I only performed the following sections.
Installing Git
Git config file setup
I then went to GitHub to add a new SSH key: https://github.com/settings/keys after I created a new SSH key on the VM by following the docs on GitHub.
Once this was set up I was able to clone this blog to my machine.
Since I don't have Node.js and NPM installed yet I can't install the dependencies and run the blog, so it's time to fix this.
Installing Node.js on the VM
To install Node.js I have 2 options. I install it via the distributions that are available from NodeSource, or use nvm - Node Version Manager - so I can manage multiple versions of Node.js.
I went with nvm and installed the latest version of Node.js.
$ curl 

-

o

-

 https:

/

/

raw

.

githubusercontent

.

com

/

nvm

-

sh

/

nvm

/

v0

.

34

.

0

/

install

.

sh 

|

 bash
$ source ~

/

.

bashrc
$ nvm 

--

version


$ nvm install node
Once I had this installed, I was able to install the dependencies and run my blog.
Using VSCode to access and use the VM
There's also a tutorial on this topic but it boils down to installing VSCode and the Remote WSL Extension. I'll not go deeper into the installation but once installed you can open a project either from:
The WSL command line
By typing in code ., which will open the folder you are currently in. Or typing code <path-to-folder-or-file>.
VSCode
By typing in CTRL+SHIFT+P, typing Remote-WSL and choosing one of the many options.
Conclusion
Installing WSL2 and getting a project working with Git, NPM and VSCode is really a walk in the park. The documentation on the Microsoft website is top notch and contains everything you need to know.
As for the concerns I mentioned at the start of the article, I already noticed a decrease in time when installing dependencies and serving this blog. Really looking forward to do some more real life testing.
From a person coming from Mac, I think this certainly is a step in the right direction to make web development on Windows a fluent experience.